Recipe | dessert
Summer cake
MAKE A GLUTEN-FREE SUMMER CAKE WITH A TASTE OF CHOCOLATE AND STRAWBERRIES
By: Louise Svensson
Photo: Karin Nordström
10 pc portions
INGREDIENTS BASE
4

eggs

1.75

dl granulated stevia

0.75

dl semi-skimmed milk

75

g butter

1

dl almond flour

1

dl coconut flour

2

tsp baking powder

1

ml measuring spoon vanilla powder

1

pinch salt
INGREDIENTS FILLING
500

g fresh strawberries

0.5

dl vanilla whisk, 12% fat
Instructions
Preheat the oven to 175°C. Whisk eggs and granulated stevia to a fluffy batter. Melt the butter and add the milk. Let cool. Mix all the dry ingredients in a bowl. Mix the butter and milk mix with the eggs. Sift down the dry ingredients and carefully stir to a smooth batter.
Butter a springform pan and sprinkle almond flour in the pan. Pour in the batter and bake in the middle of the oven for about 40 minutes. Let cool on an oven rack and then divide into two parts.
Whip the vanilla whisk and mix with 200 g of Protein Pudding.
Rinse and slice the strawberries. Place a cake base on a platter, spread 200 g of ProPud Protein Pudding Chocolate Chip Cookie and 1/3 of the sliced strawberries over it. Add the other part and spread the "pudding whisk" over and around the cake. Decorate with the rest of the strawberries.
| Nutri­tio­nal value per serving | Energy | Fat | Carbohydrates | Protein |
| --- | --- | --- | --- | --- |
| Nutritional value per serving | 150 kcal | 10 g | 7 g | 8 g |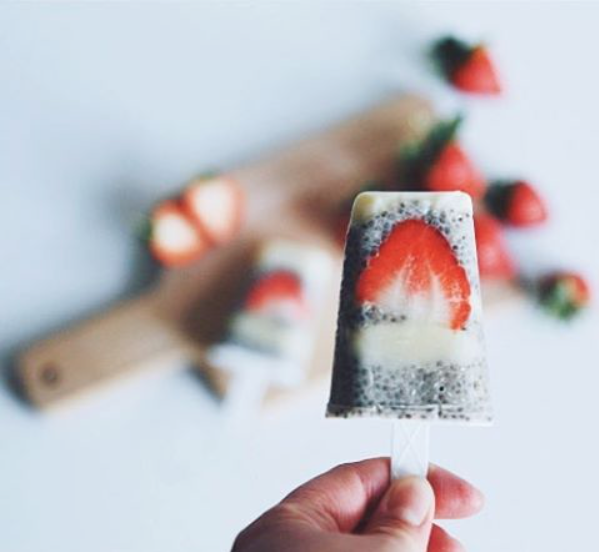 Recipe | Dessert | Snack
Chia ice cream with vanilla & berries
Read the recipe