---
"Eat for breakfast, as a snack, after work out or for dessert. Only the imagination sets the limits."
---
NJIE ProPud Protein pudding Chocolate Chip Cookie –  A smooth pudding with cake and chocolate flavour. A dream for a cake lover! A healthy and smart snack, easy to eat on the go, but taste the best served cold.
Tip! A protein pudding in the evening provides the body with fuel while you sleep. Extra important if you want the maximum benefit of your weight training session.
No added sugar
20 g protein per cup
Lactose free
Inspiration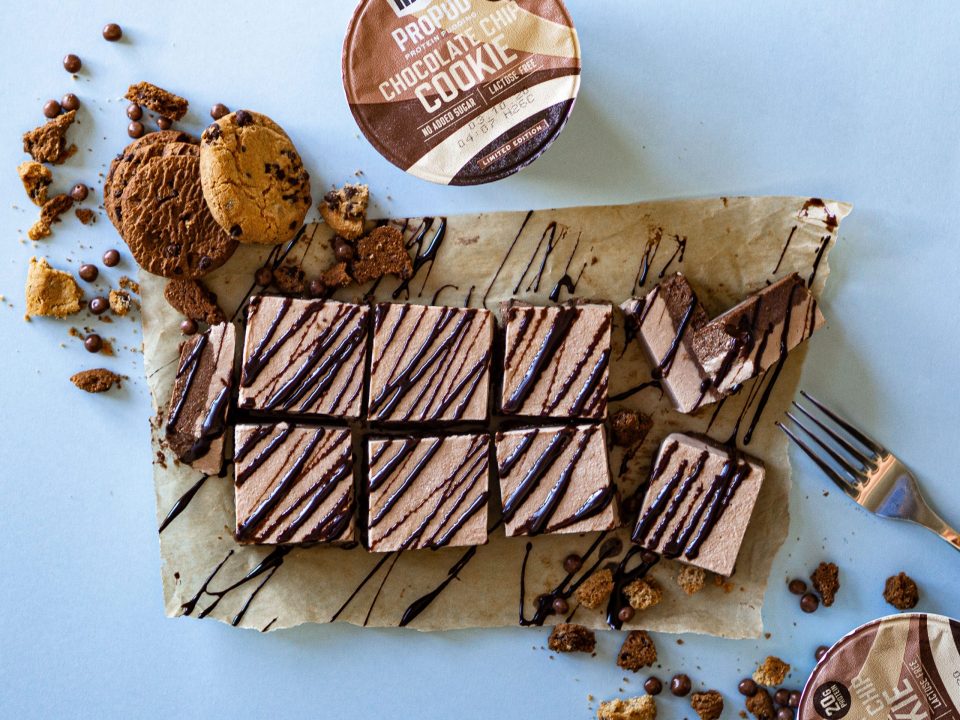 Ingredients
Pasteurised MILK, MILK protein, fat reduced cocoa (1,9%), stabilisers (cellulose gum, carrageenan), flavourings, natural flavourings, antioxidant (sodium phosphates), sweeteners (acesulfame K, steviol glycosides), flavourings, lactase.
Contains natural occurring sugars.  Contains sweeteners. 
NOTE! Recipe changes can occur. Always refer to the packaging for correct information.
Nutrients
Per 100 ml
| | |
| --- | --- |
| Energi | 315 kJ/75 kcal |
| Fett | 1,5 g -varav mättat fett 1,0 g |
| Kolhydrater | 4,8 g -varav sockerarter 4,5 g |
| Protein | 10 g |
| Salt | 0,30 g |
| Laktos | < 0,01g/100g |
Questions & Answers
Is ProPud Pudding gluten free?
Is ProPud Pudding lactose free?
The lactase enzyme added in the process digests the lactose in the form of galactose and glucose so that even the lactose intolerant can enjoy our products.
This also means that the natural sugars from the milk – galactose and glucose – are still in the product. Hence the natural carbohydrates contained in the product.
Is ProPud Pudding milk free?
Those allergic to milk CANNOT eat ProPud, as it is milk-based.
Lots of carbohydrates in ProPud = lots of sugar?
There is no added sugar in ProPud. The carbohydrates come naturally from the milk.
Where can I find ProPud?
With all major chains. Ask for ProPud in the dairy section!