---
"More of the good stuff! Our creamy, top-selling chocolate milkshake is now available in an extra large 750 ml bottle."
---
Perfectly sweet but without added sugar, lactose-free and rich in protein. Perfect to share with the whole family, for those who exercise a bit more or simply loves the good taste.
It fits perfectly before or after work out for more energy and quick recovery.  Tip! Serve cold and shake before use
No added sugar
Lactose free
45 g protein per bottle
750 ml
Inspiration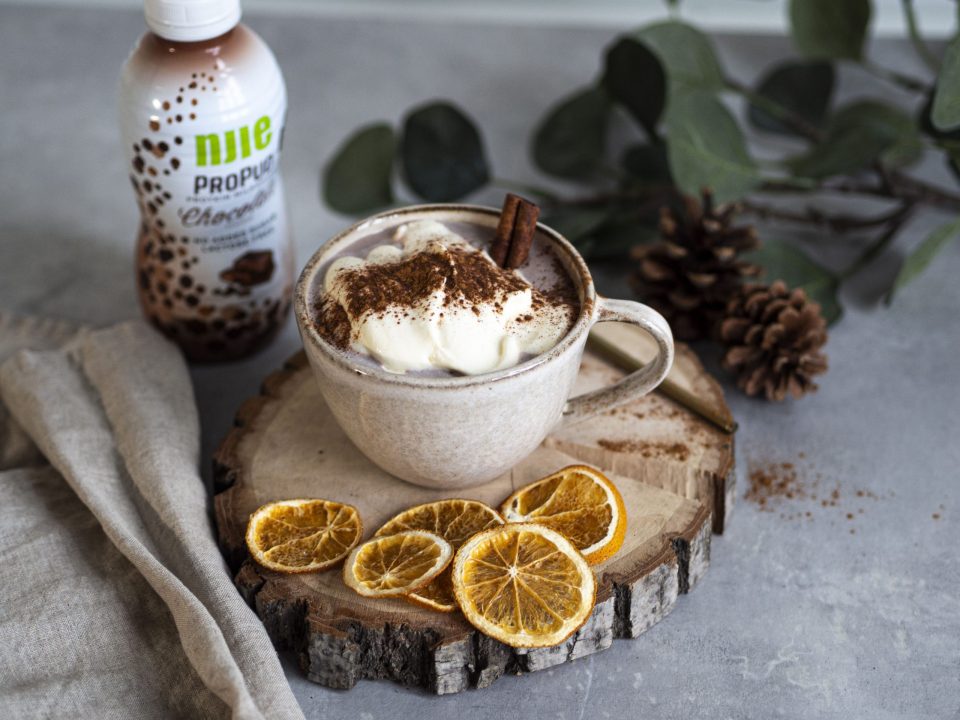 Ingredients
MILK, MILK protein, fat reduced cocoa powder (0,6%), stabilisers (gellan gum, carrageenan), sweeteners (steviol glycosides from stevia, acesulfame K), natural flavouring, lactase. UHT treated.
Contains sweeteners. Contains natural occurring sugars.
NOTE! Recipe changes can occur. Always refer to the packaging for correct information.
Nutrients
Per 100 ml
| | |
| --- | --- |
| Energy | 251 kJ / 60 kcal |
| Fat | 1,6 g - of which saturates 1,1 g |
| Carbohydrate | 5,0 g - of which sugars 5,0 g |
| Protein | 6,1 g |
| Salt | 0,11 g |
| Lactose | <0,01 g / 100 ml |
Questions & Answers
Does the Milkshakes contains Swedish milk?
No, as they are produced in Austria, the milk comes from Austria.
Are ProPud Milkshake gluten free?
Yes, they are gluten-free.
Are ProPud Milkshake lactose free?
The lactase enzyme added in the process digests the lactose in the form of galactose and glucose so that even the lactose intolerant can enjoy our products.
This also means that the natural sugars from the milk – galactose and glucose – are still in the product. Hence the natural carbohydrates contained in the product.
Are ProPud Milkshake milk free?
Those allergic to milk CANNOT eat ProPud, as it is milk-based.
Can I drink ProPud Milkshakes if I am pregnant?
Yes – if you today drink food with sweeteners and pasteurized milk.
Where can I find ProPud Milkshakes?
With all major chains. Ask for ProPud Protein Milkshake in the dairy section!