---
"The Banana Split Protein Bar is as tasty as a pastry! A lovely taste of banana and crispy meringues with a white chocolate coating."
---
Banana Split – a creamy protein bar with taste of banana and crispy meringues with a white chocolate coating.  An easy and delicious snack that is easy to throw in the training bag or eat whenever you need some extra energy. ProPud protein bar gives your body what it needs!
No added sugar
18 g protein per bar
No palm oil
Inspiration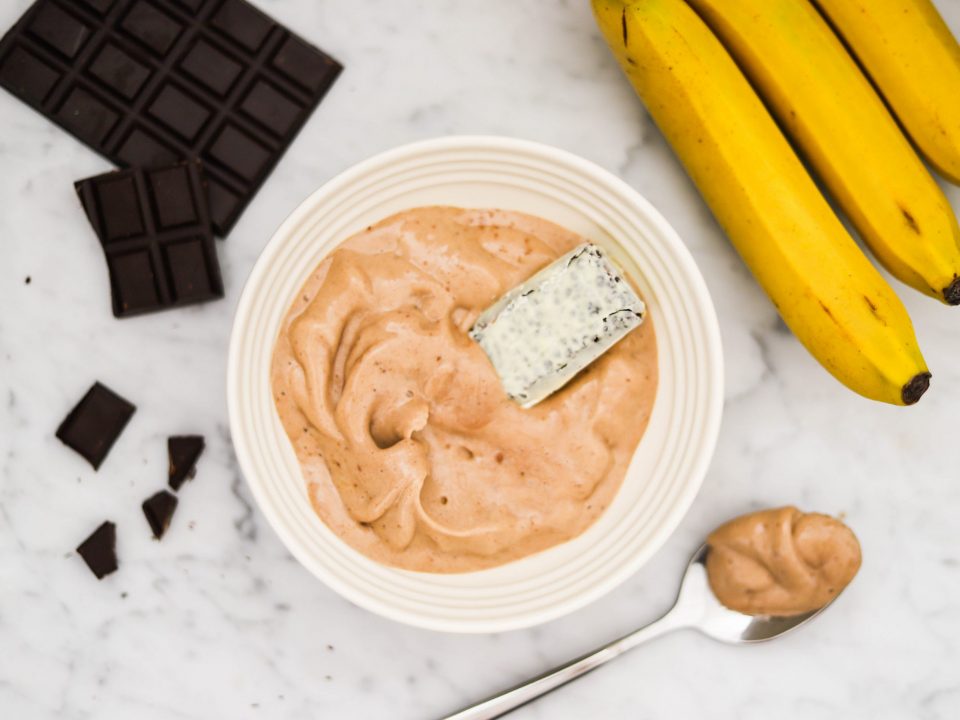 Ingredients
MILK protein, cocoa butter, bulking agent (polydextrose syrup (polydextrose, water)), humectant (glycerol), collagen peptides (bovine), sweetener (maltitol), oligofructose syrup, whole MILK powder, cocoa SOY protein crispies (4,1 %)(SOYA protein isolate, tapioca starch, fat reduced cocoa powder), skimmed MILK powder, WHEY protein isolate, fat reduced cocoa, emulsifier (SOYA lecithin), flavouring, sweeteners (aspartame, acesulfame k).
Contains sweeteners. Contains a source of phenylalanine. Contains natural occurring sugars.
May contain traces of EGG, NUTS, SESAME and WHEAT.
Contains polyols. Excessive consumption may have a laxative effect.
NOTE! Recipe changes can occur. Always refer to the packaging for correct information.
Nutrients
Per 100 ml
| | |
| --- | --- |
| Energy | 834 kJ / 194 kcal |
| Fat | 7.7 g -of which saturates 4.7 g |
| Carbohydrate | 14 g -of which sugars 2.8 g -of which polyols 11 g |
| Fibre | 7.2 g |
| Protein | 18g |
| Salt  | 0.13 g |
Questions & Answers
ARE PROPUD PROTEIN BARS GLUTEN-FREE?
No, they may all contain traces of wheat. We have not added any wheat, but since the factory handles wheat and gluten, there may be traces of those.
ARE PROPUD PROTEIN BARS MILK-FREE?
Those allergic to milk CANNOT eat ProPud, as it contains milk protein.
ARE PROPUD PROTEIN MILKSHAKES GLUTEN-FREE?
Yes, they are gluten-free. ProPud Plus+ Fiber is also gluten-free, as we use gluten-free oats.
CAN I EAT PROPUD PROTEIN BARS IF I AM PREGNANT?
As with all foods, we recommend that you consult your midwife.
LOTS OF CARBOHYDRATES IN YOUR BARS = LOTS OF SUGAR?
There is no added sugar in ProPud. The carbohydrates come naturally from the milk. Polyols (sugar alcohols) are considered carbohydrates but are not sugars.
WHERE CAN I FIND PROPUD PROTEIN BARS?